At Last A Predictable Crackle Glaze/Crackle Varnish
A crackle glaze is a simple idea, they attempt to re-create the effect of old varnish that cracks and crazes over time.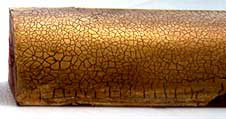 A crackle glaze or crackle varnish, generally consists of a base coat and a top coat. The way they work is simple the water-based varnish dries quicker than the oil-based one, and the movement from the underlying layer, which is still drying, causes the top layer to crack.

I have used many of the available glazes in my time, oil based varnishes with a water based top coat, made from animal glue or an acrylic varnish, the oil based crackle glazes were often difficult to control owing to the temperature range they worked under, also it was difficult to control the size of the cracks, as the picture on the left shows.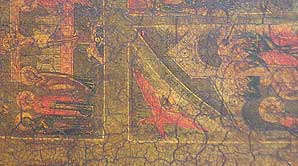 Here are some examples of weathered two part oil and water crackle varnish, some of these have had added an ageing glaze to give an older appearance to the metal leaf. Please note in all these examples and others that follow we use only imitation gold leaf, of course if you do want to use real gold leaf you can do so, you will get very much the same effects.
Because the traditional oil/water glazes are sometimes difficult to get results from, due to local temp, humidity etc, I no longer sell them from this site, I had too many complaints about not getting results.
The fact is with this type of traditional two part crackle you have to practice in your own environment, and like any skill it takes time to master.
However I have shown pictures of the oil/water glaze as, when it works, it produces a nice variety of medium sized cracks.
The only glaze I am prepared to call predictable is the two part acrylic glaze that I sell from here and which produces a fine network of cracks as the picture in the top right shows.
There are only two stipulations with regard this crackle varnish. Work should not be done in cold conditions, and make sure you apply thin coats.
Apply a thin coat of the base glaze, wait until it is dry, (it becomes transparent when dry).
Then apply a coat of the top glaze. As this coat dries it also becomes transparent, it is during this drying phase that the cracks form.
The cracks that form will be quite fine, and it may be that you will not see them until you apply an antique glaze, see below.
You can purchase this simple and reliable 2 part crackle glaze from the gilding supplies page.
It is normal after applying the crackle glaze, to apply an antique glaze over it in order to highlight the cracks, lets see how the antique glaze is applied.